There are many different types of facelift procedures. Choosing the right technique is the job of a good Plastic Surgeon. In order to understand the different techniques, you must first understand a little basic anatomy of the face. The face is built from the inside out from bone and then layers of muscle, a support system (SMAS), fat and then skin. Moving, lifting and changing any of these structures in any combination has resulted in many different techniques. The simplest is the skin lift, which as its name implies, lifts and tightens only the skin. Facelifts began to change rapidly in the late 1960's and into the 70's by tightening the deeper support layers (SMAS). This allowed for better more natural results because it tightened the deeper tissues which were aging. In the 80's a new way of lifting the deep layers together with the skin was developed in Sweden by Dr. Tord Skoog. This was adapted, refined and first published by Dr. Sam Hamra in1990 as the Deep Plane facelift. Further advancement of the procedure included moving the lower eyelid structures with the facial layers and became the Composite facelift. This was very powerful since it retains better vascularity to the tissues and can be pulled tighter. It resulted in a more thorough rejuvenation of the cheek and lower eyelid giving a much more youthful but natural appearance. Since then there have been many slight alterations by various other surgeons but the above basics still hold true today. So in conclusion, the Composite facelift is a type of Deep Plane facelift, but not all Deep Plane facelifts are Composite facelifts.
Dr. Schuster learned this facelift technique directly from Dr. Hamra while spending time with him in 1991 as his first fellow. Dr. Schuster has since used and adapted the technique to maximize the results and create a balanced, youthful look for his patients.
What Are the Benefits of a Deep Plane/Composite Facelift?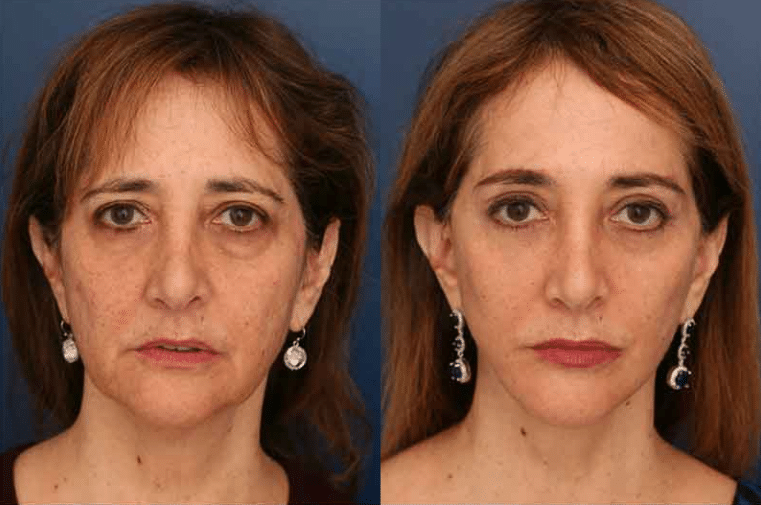 Rather than treating the face as an array of independent and isolated parts, the Composite Facelift addresses the face as a single cohesive unit. This provides an outstanding result, and a number of benefits, including:
Comprehensive rejuvenation: Most conventional facelift techniques either separate the flap and the SMAS layer, or simply do not deal with the SMAS very much at all. By performing a Midface lift to elevate the lower eyelid structures the Composite Facelift provides a complete and even rejuvenation.
Youthful appearance: The Deep Plane/Composite Facelift performed by Dr. Schuster restores a youthful cheek contour by creating upper cheek fullness. The technique also preserves much of the of the fat beneath the eye, creating a smooth transition from the lower eyelid to the cheek and a seamless, youthful look.
Natural-looking outcome: The goal of facelift surgery is to create a subtle, natural-looking result that helps you look like a refreshed version of yourself, and never as though you've been "worked on." The Composite Facelift technique is designed to ensure your results are elegant and natural looking, completely avoiding a "wind tunnel" or "over pulled" appearance.
Long-lasting results: The results from a Composite Facelift are long-lasting, allowing you to enjoy your attractive, youthful facial appearance for years to come.
Most surgeons do not perform this technique because it takes longer and is more technically demanding. Dr. Schuster has performed Deep Plane and Composite facelifts on hundreds of patients over the course of his decades-long career. After some minor adjustments to the original technique, he has found the procedure to be a safe, reliable procedure to help patients achieve a wonderful result.
Is a Deep Plane/Composite Facelift the Right Option for Me?
While the Deep Plane/Composite Facelift offers a number of unique benefits, the procedure is not always the best option for every patient. During your initial consultation with Dr. Schuster, he will assess your facial condition, discuss your concerns, answer your questions, and explain all of your facial plastic surgery options. In some cases, a more traditional facelift approach may be your most appropriate solution.
We invite you to visit our before-and-after gallery to see examples of Dr. Schuster's exquisite facelift results for yourself.
Contact Our Baltimore Facelift Plastic Surgeon
To learn more about the advanced facelift techniques offered by board-certified plastic surgeon Dr. Ronald Schuster, please contact or office online or at 410-902-9800 today to schedule your initial facelift consultation. Dr. Schuster serves patients in Baltimore and the surrounding areas of Maryland.